UP Ka Himmatwala Rap Song Lyrics & MP3 Download: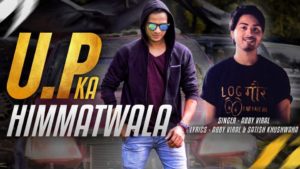 Lyrics:
Deviyon aur Devtaon Ko Karta Hun Mai Namste
Itne saare log dekho jud gaye haste haste..
Shukriya aap sabka jo aapne diya pyar..
1 lakh logo ka hua apna ye parivar..
Mai chhora hun UP ka, Mumbai me Mai Rehta..
Dekhta Hu mai sapne..Mere sath log mere apne..
Struggle ke Jo Din the ..Wo din saare gujar gaye..
Jidhr bhi gye baata pyar..Dil Me Sabke Utar gaye..
Mere Haters Saare Bikhar gaye..
Hm heere the hm nikhar gaye..
Baat Batani Hai Tumko ..Baat hai ye Zaruri..
Meri Saadgi ko beta..Na Samjhna tu kamzori
Hardwork Meri Ibaadat hai..
Na Mujhme Buri Koi Aadat Hai..
Jo Log The Pehle Haste ..Aaj Milne Ke Liye Taraste
Hum Apni pe jo aa jaye toh Aag banke baraste..
Chhoto Ko Liye Pyar aur Bade Ko Hai Namste..!
Kari Mehnat Maine Din Raat Hai..
Beta Ye Toh Bss Shuruaat Hai..
1 Lakh Log Mere Sath Hai..
Tabhi aaj meri aukat hai..
Sabhi Log hain aajkal kehte , Satish Me Kuch baat hai..
Han ! Sath hain mere apne..Poore honge saare sapne
Mujhse Pyar karna hai toh itna tu samjh le..
Achha lage Aaja..Nahi toh bach ke tu nikal le..
UP se hum aaye…Khole Sabke Dil Ka Taala..
Baat Bole Saaf ..Naam Hamara Jhunjhunwala
Kare Izzat Ham Uski ..Jo Hai Izzatwala
Tera Bhai Hai UP Ka..Hai Wo Himmatwala
Desi Bhasha Pe Sbne Majak Mera Banaya..
Isi Bhasha ke Haa Dum Pe ..Mai Itni Dur Chala Aaya
Mera Accent Thoda Desi…
Mai Banunga Antardeshi
Ek Waqt tha jab sharamata..
Ye soch ke ghabrata tha..
Koi Puche bhai kya karta hai .. Naa Kisi ko bata paata tha
Bss Khud Ko Ye Samjhaata Tha
Bhai Waqt wo jaldi aayega ..Jab Log Karenge Gaur
Fanfest ke Stage par "Satish" Ke Naam ka shor..!
Abhi ye toh bss shuruaat hai..
Ye kuch mere Jazbaat hain..
Ab badle mere haalat hain..
Kari maine ye karamaat hai..
Khurafaat hai Mere Seene me..
Mazaa aane laga jeene me..
Aaj Bolta mera kaam hai..
Itne Saare logo me mera naam hai..
Mera aap sabko Paigaam hai..
Aaram karna haraam hai..
Ab jaldi hi deviyon devtaon..Play Button Bhi aayega
Papa Kaha tha na Maine.."Beta Kuch Karke Dikhayega"
Ye RAP nahi mera pyar hai
Aap log mera parivar hain..
Mera Saadgi Mera Hathiyar hai..
Hum Badlne Ko Taiyar hain..
Toh Bane Raho Iss Channel Par ..Yaha Content Hai Damdaar
Like karo iss video ko ..agar lage mazedaar
Shukriya hai aap Sabka..Ab Chalta hu apne raste
Devio Aur Devtao Ko Karta Hun Mai Namste..
Lyrics by: Abby Viral & Satish Kushwaha
Sung by: Abby Viral ( Abhinav Prateek)
Download From Here" UP Ka Himmatwala" Mp3 Rap Song
Watch Video On YouTube:
आप इस गाने का TikTok , Instagram  Video बना कर मुझे टैग कर सकते हैं।  मुझे पसंद आया तो मैं उसे अपने Stories में अपलोड करूँगा।
Thank you for visiting ..! Have a great day
Follow me on Instagram: @TheSatishKushwaha